All creatures great and small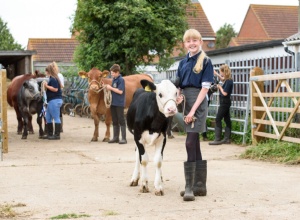 Westlands Young Farmer Representation at the Kent County Show
During the first week of July Westlands Young Farmers competed at the Kent County Show. This gruelling competition lasting 4 days tests the confirmation, knowledge, handling and turn out of each Young Farmer and their animals.
Each day lasts, on average, 15 hours with pupils waking at 5am to feed and prepare their animals and keeping them at top condition throughout the day while competing in the classes. Each day has different objectives that all the Young Farmers across Kent take part in , winning points for their individual clubs.
By the third day our Young Farmers are very tired, stressed and considerably emotional as are the leaders that support them. Keeping our Young Farmers going and competing to a very high standard and being the best they can be throughout the event we secured 1st Place.
We are exceptionally proud of all of our Young Farmers that took part in the show and many tears were shed by the whole team when we were presented with the final trophy. Westlands Young Farmers Club would like to thank all the parents and staff helpers, along with our sponsors that enable our club to improve year on year.