Everyone wants that man, Bugsy Malone!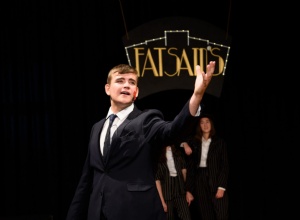 "You're gonna be remembered for the things you say and do."
Over the past few terms, the Drama department at The Whitstable School have been working on the summer musical. This year they have decided to perform Bugsy Malone.
The students began the read-through back in January this year. Since then, the students' have worked endlessly to ensure all of the scenes, songs and dances were perfected.
They have been headed up by a talented team of principal actors with Harvey Cornthwaite starring as Bugsy Malone.
Director Mr Giles said "as soon as Harvey walked in to the audition and started talking, I
knew he was perfect for the role. His mannerisms and characteristics were exactly how I saw Bugsy."
This year we also saw a lot of new faces to our extra-curricular work, including Jake Forward and Will Deed. They took on the roles of Fat Sam and Dandy Dan and became a powerful rivalry, (only onstage of course), at the heart on the performance. Jake said "it has been so much fun to work with such an amazing cast. I have gained really good friends loved every second."
Fighting over young Bugsy's heart were Daisy Selwood as Blousey and Matilda Scott as
Tallulah. Both produced powerful and emotional songs that captured the audiences' heart and allowed the students to showcase their talent. This year in particular, a number of our students have been involved in several projects, and given 100% to all of them, as well as keeping up with their studies. Mr Giles said "I am extremely proud to have worked with such amazing, talented and professional students this year. It has been as honour."
So what will the Drama department produce next year? How will they top it? Will they be
able to produce giant performance again? Watch this space!