Our Early Years Provision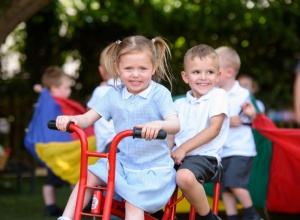 Swale Academies Trust has invested heavily in EYFS provision across all our schools and as a result, great outcomes have been achieved.
The Trust strongly believes in giving children the best start in life and has heavily invested in the EYFS provision across all of our schools. We strongly believe that the children need the best foundations to be able to grow into lifelong learners. In order to do this all our primary schools, have developed a provision where children are immersed in a play based curriculum that is built around the interests of the children. Schools have extremely well resourced indoor and outdoor environments to support independent learning. The provision encourages children to explore by showing curiosity, initiate ideas and seek challenge, persist and bounce back after difficulties and be creative whilst thinking critically. Positive relationships between staff and families are formed as children start school to ensure the transition between nursery and starting school is smooth.
The Trust have supported the development of EYFS with ensuring schools are fully resourced and staffed. Staff have received ongoing training to ensure a shared understanding of pedagogy is implemented within schools and leaders are fully supportive of this approach to learning. With this in mind it has been recognised that children in our schools get off to a flying start. Teachers and Teaching assistants are highly skilled professionals and have an in-depth knowledge of how children learn. This supports children's development and ensures children make rapid progress from their starting points.
With the support of the Trust all of our EYFS provisions are either Good or Outstanding.